19 Apr

100 pledges of the digital skills and jobs coalitions

19 Apr, 2018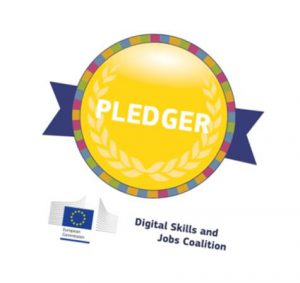 In a little over a year the Digital Skills and Jobs Coalition has its 100th pledge. Collectively pledges represented since the launch in December 2016 more than 3.7 million online or face-to-face trainings. There have been over one million certificates issued and 9,000 job placements and internships.
As the Digital Skills and Jobs Coalition grows and evolves, we expect more pledges and more best practices developed to bridge the digital skills gap.
National Coalitions are continuing their work in engaging stakeholders in member states to bridge the digital skills. The Estonian coalition, coordinated by ALL DIGITAL member Vaata Maailma, started a new project called Nuti Akadeemia (smart academy). The project is developed and fully funded by coalition members. Knowing that the population use smart devices on a regular basis to access basic services, the project  ensures that citizens use devices in a safe and intelligent manner. In early April the National Coalition and the union of hobby science teachers held a workshop academy for teachers where Pia Groenewolt attended on behalf of the secretariat of the coalition to present international collaboration opportunities for those working in youth and the STEM education field.