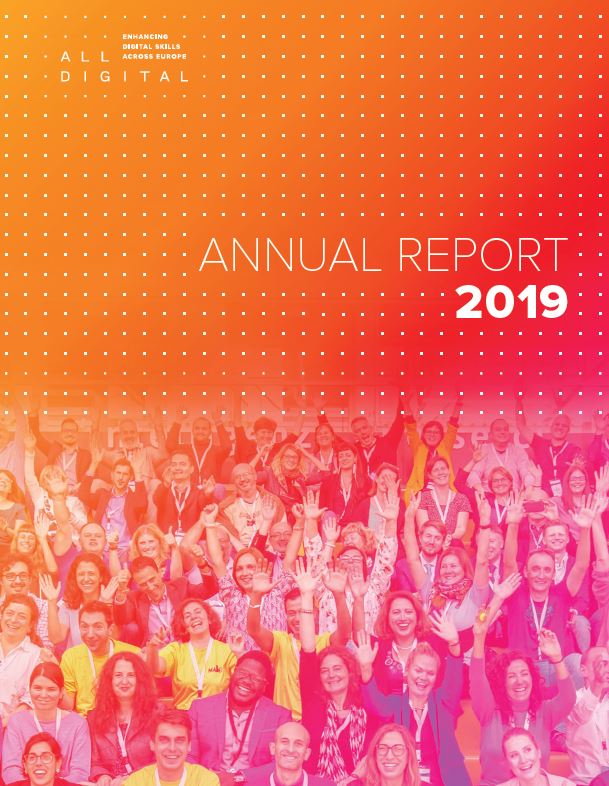 19 Jun

ALL DIGITAL Annual Report 2019

19 Jun, 2020

Posted at 17:02h

in Uncategorized

In 2019 ALL DIGITAL became the key partner for organizations or institutions interested in the development of digital skills, especially DigComp, by leading or joining challenging projects and impactful consortia. We produced important results, such as the online Self-Assessment Tool, training toolkits and policy recommendations. Our activities, events and campaigns showed increased participation and received wide publicity.

In 2019, ALL DIGITAL continued to advocate on the importance of digital skills and to push policy-makers and other stakeholders to recognise the key role of non-formal training providers in empowering Europeans with digital skills and bridging the digital divide and to plan support measures to ensure that they can continue to provide their indispensable services in a favourable financial and political environment.

Above all, we produced the Manifesto for enhancing digital competences across Europe, which sets the agenda for a broad and inclusive dialogue among our members, other organizations, networks, and European institutions. The Manifesto has already received international publicity and wide endorsement.

During the year, we were involved in a total of 17 projects, of which 6 are new. We organised a series of events and campaigns to boost networking opportunities, as well as to raise awareness on the impact of the digital competence centres. The ALL DIGITAL Summit 2019 brought together 170 participants. ALL DIGITAL Week was a major success with over 3,600 events organised in 31 countries and with over 130,000 participants.

This report includes further details on the above mentioned activities and results. Enjoy your reading!