28 May

Information Society Development Foundation

28 May, 2012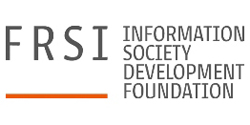 The Information Society Development Foundation (FRSI) is a non-governmental organization established in 2008 by the Polish-American Freedom Foundation. FRSI's objective is to support and promote the development of an information society with a very well developed services sector, high education standards, broad and inexpensive Internet access, public access to information, and the ability to exchange data irrespective of the distance.
FRSI conducts activities to increase access of citizens, institutions and organizations to Internet-based information and communication technologies and strives to popularize the knowledge of the benefits of using those technologies in citizens' life.
FRSI carries out modernization projects aimed at involving the inhabitants of Polish villages and small towns in the main course of social and economic life and making it easier for them to gain access to information, knowledge and culture.
The key project is the five-year (2009 – 2014) Library Development Program. The FRSI is implementing the Library Development Program to help Poland's public libraries provide access to computers, the Internet, and training. The Library Development Program in Poland is a result of the partnership between the Bill & Melinda Gates Foundation and the Polish-American Freedom Foundation. The program involves more than 3.300 libraries from more than 1.100 communes.