19 Jan

Get Online Week 2012: become a national partner & participate in the grant scheme!

19 Jan, 2012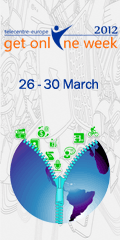 Get Online Week 2012 is a campaign organised by Telecentre-Europe supported by the European Commission and a number of international organisations, including Microsoft, Liberty Global, European Broadcasting Union and Telecentre.org.
The annual Europe wide campaign will run between 26th and 30th March 2012, aiming to bring and engage people online. The campaign will help new internet users, and encourage existing users to take full advantage of a series of online applications and services that enhance the quality of their lives. Campaign activities will be mainly targeted towards older people, youth, unemployed and SMEs.
To achieve the desired objectives, this year Telecentre-Europe is organizing a grant schemeavailable to all Get Online Week national partners, where partners can get 2,500 EUR for reaching the targets.
Guidelines for national partners & telecentres and other resources like visuals and the official logo can be downloaded from the campaign's website.