10 Feb

Empowering citizenship through media literacy

10 Feb, 2012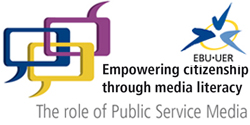 The European Broadcasting Union is a supporter of Get Online Week 2012 and is organizing a media literacy event that will take place in Brussels on 1 March 2012.
Decision-makers and experts will gather at the EBU office in Brussels to discover how public service media (PSM) facilitate citizenship through media literacy – a key objective of the Digital Agenda for Europe. The event will highlight the key role public service media plays in promoting media literacy, identifying the media literacy projects of their 85 national media member organizations in 56 countries in and around Europe.
Ian Clifford, Deputy Chair of Telecentre-Europe AISBL's managing board will participate in the workshop entitled "Developing media literacy in a practical way: towards a media literacy toolkit".
» Read more at www.getonlineweek.eu