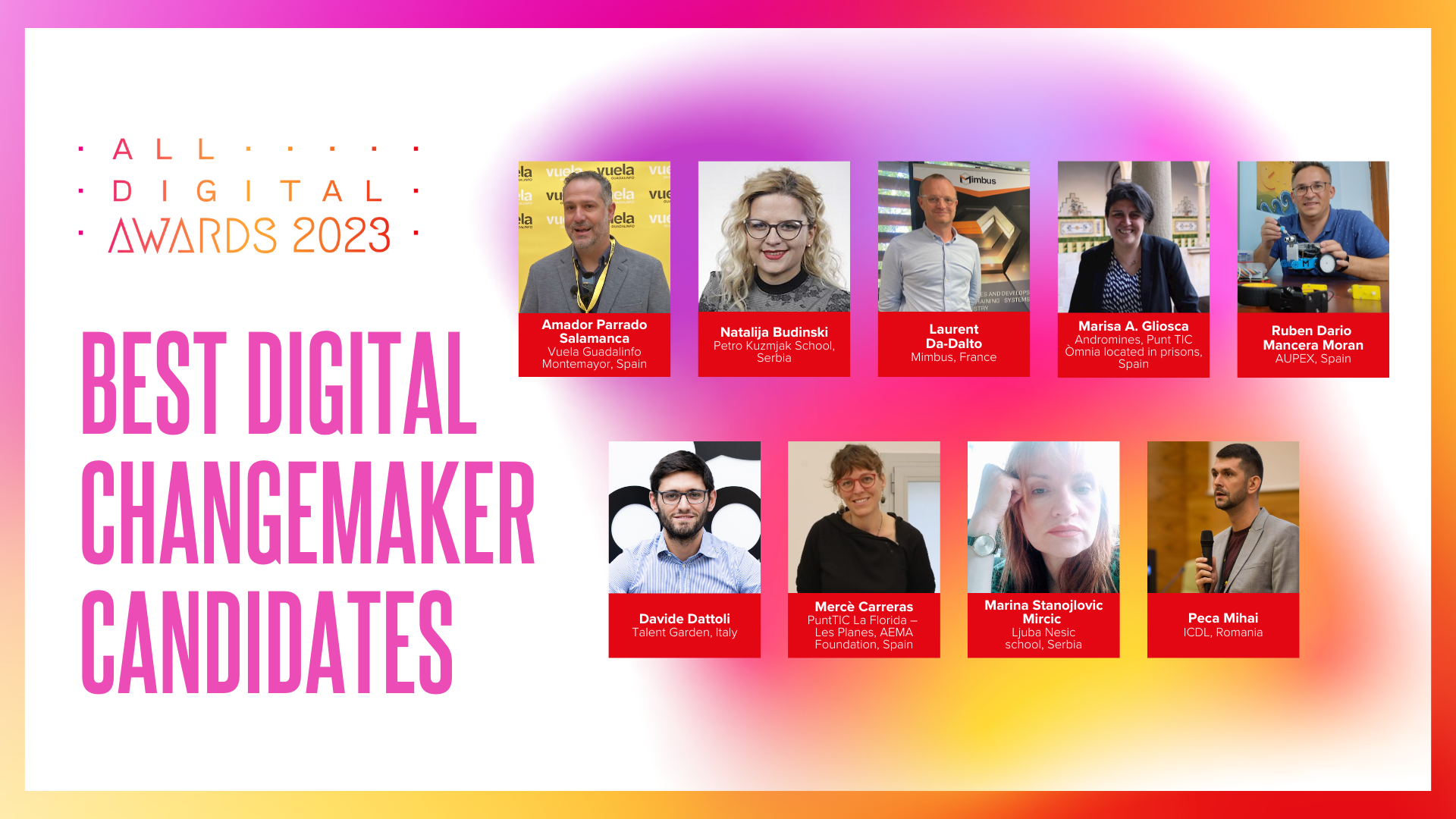 14 Jun

ALL DIGITAL Awards 2023: Best digital changemaker

14 Jun, 2023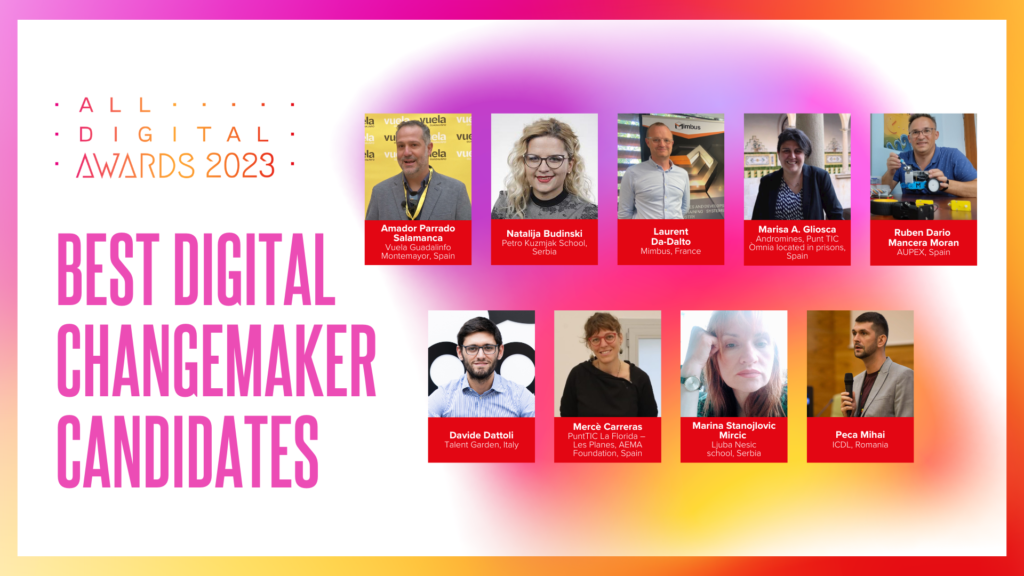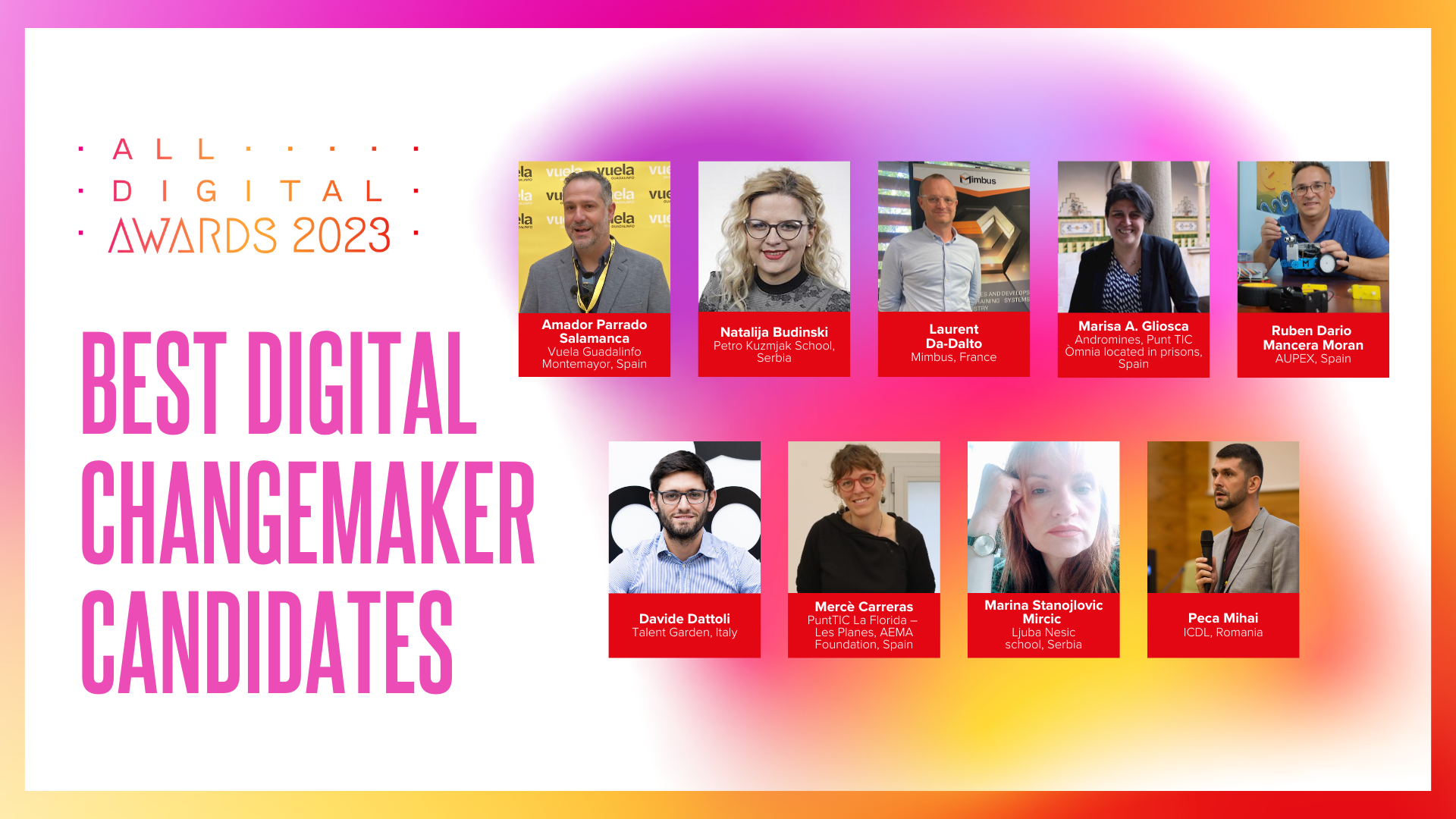 Category: Individual
Finalists:
Rubén Dario Mancera Morán, AUPEX, Spain
Rubén has spent over 22 years passionately fostering knowledge and digital empowerment. With a broad scope of expertise, he orchestrates workshops, seminars, and conferences centred on digital projects and their integration into daily life. At the forefront of more than 75 digital competence centres in Extremadura, Rubén orchestrates crucial initiatives like EU CodeWeek and the Digital Social Lab, driving exploration of digital enabling technologies. His multifaceted approach extends to technical training, elevating his team's capabilities as e-facilitators. A true innovator, Rubén amplifies digital proficiency through inventive methods. Notably, he initiated projects that bridge Extremadura and Ibero-America, promoting free software and combating digital disparity. Amid the pandemic, he exhibited remarkable solidarity by leading 3D printing efforts to provide essential supplies. With an impressive track record of over 391 programming and robotics workshops, Rubén's resolute dedication has transformed Extremadura's digital landscape, making him an invaluable asset in the realm of digital transformation. His technical leadership extends even to cultural events, evident in his contribution to the internationally acclaimed Mérida Holy Week website and the development of the "Location SSM" app, solidifying his impact beyond digital realms.
Mihai Peca, ICDL Romania
Mihai Peca stands as a prominent digital changemaker with an impressive 11-year commitment to enhancing digital literacy among seniors and vulnerable communities. As a dedicated trainer, Mihai has played a pivotal role in training over 500 individuals through collaborations with various providers. Notably, he has contributed significantly to the ICDL Digital Citizen program, aiding approximately 150 elderly individuals in overcoming digital isolation and embracing online services that have enriched their lives. Mihai's versatile approach is evident as he tailors training to digitally illiterate learners and fellow trainers seeking to empower at-risk individuals. He demonstrates unwavering involvement across all project phases, from curriculum design catering to diverse age groups to adaptable evaluation strategies. His adept use of pedagogical techniques tackles learning challenges effectively, and he maintains active collaboration with organizations and public institutions dedicated to aiding vulnerable populations. Mihai's courses have bridged the digital divide for newcomers, enabling independent computer and digital device usage, online communication, access to healthcare services, secure financial transactions, and critical information acquisition, ultimately elevating their quality of life.
Natalija Budinski, Petro Kuzmjak School, Serbia
Natalija is a head teacher deeply engaged in educational innovation, particularly within the STEM realm. With an emphasis on merging art and technology, she has authored approximately 50 papers focusing on STEM education and innovative projects. Natalija's unique approach involves collaborative efforts with artists and museums to integrate STEM subjects with art, dance, and poetry, recognizing their positive impact on student well-being. She holds a commendable record of coordinating technology-supported projects through partnerships with European schoolnet, Ministries of Education, and other governmental bodies. Recognized globally for her contributions, Natalija's accolades span from esteemed European schoolnet awards to being selected consecutively as one of the world's top innovative Microsoft teachers. Beyond her classroom endeavors, she established the "ruSTEM" association to champion education in rural and vulnerable communities. Natalija's pursuit of knowledge has led her to international experiences in Austria and the USA, where she honed her skills in inventive STEM teaching methodologies and technology integration. Her creations, from online language lessons to projects addressing internet safety, underscore her commitment to enriching education through technology. Notably, Natalija's leadership extends to coordinating Erasmus plus projects and initiatives fostering inclusive STEM education, exemplifying her role as a transformative force in the digital education landscape.
Amador Parrado Salamanca, Vuela Guadalinfo Montemayor, Spain
Amador Parrado Salamanca demonstrates an unwavering commitment to social innovation and inclusion. Operating within the context of AIL Vuela Guadalinfo, his journey began with a focus on leveraging 3D technology to transform lives. Notably, with AIL, he spearheaded projects like crafting personalized 3D plastic covers for paediatric oncology patients, designing functional ortho-prostheses for ALS patients, and constructing prehensile arms for those in need. Amador's drive for innovation is evident in his collaboration with various institutions and his ability to garner support and engagement from the community. The fruits of their labour are tangible, with a multitude of successful initiatives improving the lives of individuals facing challenging circumstances. Their work, spanning over 15 years, has brought about real change, fostering independence, autonomy, and a sense of normalcy for those they serve.
Laurent Da Dalto, Mimbus, France
Laurent Da Dalto has long been a driving force in the field of immersive learning and digital transformation. With a steadfast dedication to enhancing vocational training, he initiated his journey by pioneering the creation of the first welding motion simulator in collaboration with an Education Specialist. Recognizing the challenges faced by vocational training centres, he established MIMBUS in 2011 as a comprehensive solution to bridge workforce gaps and tackle unemployment, where now is CEO. Laurent's role as a thought leader extends beyond technological innovation; he advocates for the global implementation of immersive learning to empower learners and improve accessibility, even for those with disabilities. Notably, his involvement with international organizations such as UNESCO and the International Labour Organization underscores his commitment to driving inclusive education and economic development. Through initiatives in Pakistan, France, Africa, and Ukraine, Laurent and his team have harnessed immersive technologies to empower marginalized communities and facilitate skills development. With MIMBUS' expansive reach across 30 countries and over 1000 training centres, combined with projected sales growth, Laurent Da Dalto's impact as a digital changemaker is unmistakable.
Davide Dattoli, Talent Garden, Italy
Davide Dattoli stands as a prominent digital changemaker, renowned for his influential leadership in the technology sector. As the founder and CEO of Talent Garden, a platform for the digital technology business community, Dattoli's journey began with the establishment of Viral Farm in 2010 and later expanded to include senior consultancy roles within prominent media groups. His pivotal creation, Talent Garden, has evolved into a network of 26 campuses across eight countries, fostering digital inclusion, skills advancement, employability, and entrepreneurship. Dattoli's approach has garnered recognition for its transformative impact on local communities, solidifying Talent Garden's reputation as a hub for collaboration and digital education. Collaborations with entities like Hyper Island and Digital Magics showcase his commitment to enhancing digital capabilities and driving positive change in the industry. His inclusive leadership fosters an environment of open communication and community building, ensuring a vibrant digital ecosystem that empowers startups, freelancers, and corporations alike. Through Talent Garden, Dattoli has not only connected individuals across Europe but has also contributed significantly to the training of thousands in digital skills, making him a true driving force in the realm of digital transformation and education.
Marisa A. Gliosca, PunTIC Omnia, Spain
Marisa A. Gliosca has over two decades of experience in digital inclusion and social integration. As Technical Director of Andromines, she has been at the forefront of pioneering efforts to bridge digital gaps for marginalized individuals, particularly within the prison context in Catalonia. Marisa's leadership is evident in her role overseeing the Punt TIC Òmnia initiative within prisons, establishing computer labs with repurposed materials and spearheading digital literacy courses and cultural revitalization activities. Collaborating extensively with various entities and local stakeholders, Andromines has successfully engaged more than 9,300 participants in eco-transformative projects across 13 Òmnia centers within prisons. Marisa's approach extends beyond accessibility, encompassing job creation opportunities through the reuse of computers, furthering her commitment to societal empowerment. Her leadership is underscored by her involvement in pioneering programs incorporating virtual reality and educational robotics, enriching educational opportunities for detainees. Marisa's persuasive communication skills and resource mobilization prowess have amplified the impact of digital inclusion initiatives. Her dedication has yielded remarkable results, enhancing digital skills, fostering partnerships, and creating positive change within marginalized communities.
Mercè Carreras, PuntTIC La Florida, Spain
Mercè Carreras is Technical Principal at the Petit Pont residential centre in La Florida, Hospitalet de Llobregat. Her visionary approach emphasized community integration, participation, and alliances through community interventions. Transitioning to the technical principal, she played a pivotal role in establishing the AEMA Foundation, which focuses on impactful social innovation projects involving young people. A remarkable project under her leadership is the C-Plan, designed as a digital training space for La Florida's youth. By hiring and training young e-facilitators who were neither studying nor working, the project has effectively accompanied more than 10,000 citizens in digital procedures and facilitated free training for over 1000 neighbours. Carreras' methodology empowers young people, giving them responsibility and decision-making authority. With a multicultural team, the project creates intergenerational bonds, fosters leadership, and gains support from public administration and private companies. The success of PuntTIC La Florida is a testament to community-led initiatives becoming drivers of participation, showcasing Carreras as a true catalyst of digital transformation within her community.
Marina Stanojlovic Mircic, Ljuba Nesic school, Serbia
Marina Stanojlovic Mircic has been instrumental in revolutionizing education through innovative technology integration. Leveraging Microsoft products and platforms, such as Minecraft, Sway, and Flipgrid, she has been driving personalized learning experiences in Italian and Civics classes. Particularly commendable is her seamless adaptation to hybrid teaching during the COVID-19 pandemic, conducting impactful online lessons through Zoom and Skype, garnering substantial student engagement and parental approval. Noteworthy achievements include recognition in the STEM Discovery Campaign and a focus on promoting 21st-century skills through project-based classes, critical thinking, and peer collaboration. As a coordinator for professional orientation and sustainability projects, Marina fosters active parent involvement and instils civic consciousness among her students. Her commitment extends to international collaborations, reflected in her roles as school coordinator of AFS Intercultura and engagement in the Erasmus+ program. With a six-year streak as a Microsoft Innovative Educator Expert, Skype Master Teacher, and Scientix Ambassador, she continually imparts her expertise as a trainer, conference presenter, and influencer in the field of education.
Nomination: by an individual or an organisation
Description: Changemaker is a term coined by the social entrepreneurship organization Ashoka, meaning one who desires change in the world and, by gathering knowledge and resources, makes that change happen. Changemakers seek the only change that really matters – social change, striving to reach as many people as possible.
Digital changemakers are committed individuals who aim to transform society with the help of digital tools and technologies. They lead the refocusing and adjustment of existing ICT for learning and inclusion initiatives towards a more effective support of citizens. Examples: leaders of digital competence centres and networks, ICT educators, job and entrepreneurship mentors, digital entrepreneurs and founders of ICT companies, community leaders, policy makers.
Selection: Jury
Assessment criteria:
Achievements: Contribution to community development, support of digital skills enhancement, employability and entrepreneurship.
Social change and impact: Improving digital skills / reducing digital gap at national / regional level.
Leadership: Interaction/co-operation with partners, resource mobilization.