24 Nov

Anniversary video for Telecentre.org Foundation's 3rd birthday

24 Nov, 2012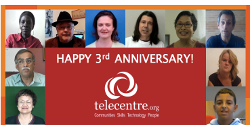 On November 24th 2012, Telecentre.org Foundation celebrated its 3rd anniversary. For this very special occasion, the above anniversary video was edited with messages from its members all over the world.
Last September, Telecentre.org foundation asked it members to send their anniversary greetings via a video message. Close to 100 videos were received from twenty-five countries in over five languages.