ALL DIGITAL Board candidates 2023
ALL DIGITAL BOARD CANDIDATES 2023
The candidates are presented in alphabetical order by surname. Candidates are added as soon as their applications are submitted.

---
LAURENTIU BUNESCU
EOS Romania Foundation, ROMANIA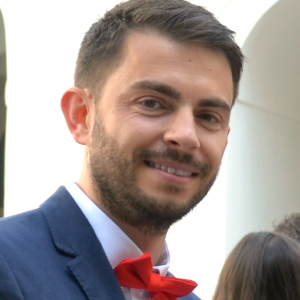 Laurentiu Bunescu is the Head of Digital Education Programs at Fundatia EOS since 2019, having previously held the position of CEO of ALL DIGITAL. Laurentiu is a strong advocate for digital skills and for a proper use of digital technologies towards better employability, social inclusion, education and wellbeing. He has an experience of over 15 years – leading and contributing to projects and campaigns in the areas of digital inclusion, digital competences and ICT education, in a multi-cultural, international context. Skilled in the management of networks, Laurentiu has a strong background in the non-profit sector and vast knowledge of the European policies on digital competences.
Before EOS and ALL DIGITAL, Laurentiu started one of the first digital competence centres in Romania. His early experience in Eastern European grassroots community development provides a major insight in understanding the network of digital competence centres across the whole of Europe.
Motivations
I have been involved with All Digital (Telecentre-Europe) since its early start-up in 2007. Since then I have contributed to building the community of digital centers in Europe and have witnessed the legal registration of All Digital in 2010. I have been part of of the growth of All Digital in different capacities, starting from Project Manager to Operations and Campaigns Manager and then finally as CEO. Over the past couple of years I have used my european experience to contribute to the development of digital skills in Romania. I believe that with the skills and experience I have gained over the past 15 years I will be able to support the further development of All Digital from an advisory position.
---
KHALED BAKRO
Digital Skills21Institution, TURKEY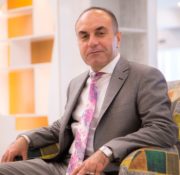 Prof. Dr. Khaled Bakro is an expert in digital business development with over a decade of experience in Teaching, Training, Administration and Curricula Preparation.
He is the founder and CEO of: Digital Skills 21 Institution and Digital Skills Academy.
They offer cutting-edge training programs in the fields of digital business, technology, and entrepreneurship.  Dr. Bakro holds a Ph.D. in Computer Engineering with a specialization in Artificial Intelligence, His academic research has focused on developing intelligent systems for various applications. In addition to his academic pursuits, Dr. Bakro has also authored two highly regarded books in computer science: "Computing Fundamentals" and "Digital System Essentials,". These books have become essential resources for students, educators, and professionals seeking to deepen their knowledge of computer systems and technology.
In addition to these achievements, Dr. Bakro has designed several cutting-edge training programs and certificates, including
• Digital Skills in the 21st (100 Digital Skills) DS21
• Digital Business Skills in the 21st (100 Digital Skills) DBS21
• Digital Leadership Skills in the 21st (DL21)
• Digital Sales Skills in the 21st (DSS21)
• Digital Social Media Marketing in the 21st (SMM21)
• Digital Teaching Skills in the 21st (DTS21)
• Digital Customers Service Skills in the 21st (DCSS21)
• Digital Skills in the 21st Certified Trainer
Motivations
I am motivated to actively contribute to building a stronger, more diverse, and inclusive network in the digital education sector. I believe in the power of digital inclusion and transformation to bridge the digital divide and empower individuals and societies. Therefore, I strive to broaden digital skills and knowledge and build bridges between digital skills and other types of skills to promote a comprehensive knowledge-based digital economy. I also recognize the importance of providing quality services to members and stakeholders in the digital education sector. To achieve this, I commit to investing in my own knowledge capital and improving my capacity to network and learn. I believe that by facilitating an understanding of digital transformation, collecting and analyzing data, and producing studies and reports, I can help increase the visibility of digital education issues and promote digital inclusion and empowerment.
Furthermore, I am motivated to engage with policy implementation and support the implementation of European digital policies, including the DigComp Framework and the European Digital Skills Certificate. I believe that by building relationships, engaging in networking and participating in working groups, I can help bridge the gap between the EU and local levels and promote the implementation of these policies.
Finally, I am committed to developing and sustaining the digital education sector , engaging experts and improving management processes. I believe in diversifying income sources and seeking targeted funding support to sustain core activities of the sector. Overall, I am driven by the desire to make a positive impact in the digital education sector and help promote digital skills, transformation, and empowerment for all.
---
ŽARKO ČIŽMAR
Telecentar, Croatia
As a founder, project manager and executive director of Croatian NGO Telecentar, Žarko dedicated the last 18 years of his professional career to the development of digital and media literacy. He coordinated and participated in implementation of 14 EU funded projects in collaboration with 28 Croatian and 26 international partners from 17 countries. From 2011 to 2022 Žarko participated in the development of occupational standards, qualification standards and curricula for media technicians, camera operators, sound technicians and multimedia producers. Since 2020, Žarko is coordinating Croatian Digital Literacy Network. The Network has published 14 scientific articles and has developed policy guidelines for the Croatian Digital Strategy 2022 – 2032 and Education Development Action Plan 2022 – 2027. Since 2022, Žarko is a school board member at the School of Graphic, Design and Media Production and in 2023 he became the Head of Media Lab at the University College Algebra.
Motivations
I would like to serve in the Board of ALL DIGITAL in order to contribute to:
1. development of ALL DIGITAL research capacity with partners from higher education
2. development of digital and media literacy policy guidelines in formal and non-formal education with partners from the civil and public sector
3. development of ALL DIGITAL Academy for teachers and trainers with a focus on new digital pedagogy
4. development of project based learning methodology with partners from the creative and cultural industry
---
VERONIQUE DE LEENER
Maks vzw, BELGIUM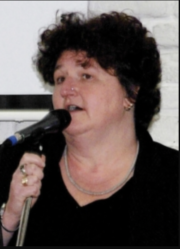 Veronique is the founder of Maks vzw, a social insertion enterprise focused on digital inclusion of migrants, refugees and other low-skilled adults and youngsters, based in the tw poorest neighborhoods in Brussels and is board member of ALL Digital since years.
Since 1999, she is director of this organization with 80 employees and two digital competence centers reaching yearly 3000 learners for long- and short-term courses and workshops. She developed a programming school for children and youngsters and adapted the methodology of digital storytelling to low skilled learners. She is co creating with her staff of trainers workshops on digital wellbeing for youngsters and for low-skilled parents.
From 1987 till 1999, she was director of the vocational school where she started as a teacher giving language and digital courses. She is also board member from the network organizations of digital competence centers from Brussels Capital Region.
Motivations
75 % of the disadvantaged groups don't have the needed digital skills for their daily live.
Digital gap is becoming bigger and bigger. In Belgium, the last 2 years, digital gap increased with 6%. Youngsters from disadvantaged backgrounds are good social media users but don't have the needed competencies for the labor market. Cyberbullying, hate speech and digi addiction are impacting the digital well-being of a lot of youngsters. Digital tools can give second-range citizens a voice and enhance social mobility. My first concern is to focus on marginalized persons and use digital inclusion as a way to give them voices and social inclusion. Being a board member of All Digital helps to reach this goal.
---
JOEL FERRER
Esplai Foundation, SPAIN
Joel is the Director of the Training and Employment Area & European Projects at Fundación Esplai, co-founding partner entity of ALL DIGITALL. He holds a degree in Philosophy and a postgraduate degree in E-learning Project Management, specialised in the field of training, where he has long experience: initially as teacher, later on as editor of online training content and manager of e-learning educational platforms and nowadays as leader of Esplai's fastest growing area. He is involved in projects of basic to high level digital skills and softskills trainings for inclusion and job placement in IT for unemployed young people; at national and European level; empowerment of citizens through ICT; recognition of socio-digital facilitator professional profile; digital competences certification processes,…Dreamer, optimist, committed, hard-working, friend… human being! Avid defender of free-of-charge but full-of-quality formal and non-formal training offer for all citizens, especially those most vulnerable, as main driving force for social transformation.
Motivations
I believe knowledge and lifelong learning should be available to everyone and under no circumstances be a cause of inequality, and in today's world digital skills are critical for being able to access both. Digital skills have become, together with soft skills, key elements for personal and professional development. The mission and values of ALL DIGITALL are totally in line with my own personal values and those of the Esplai Foundation. The believe of the three of us looking at the same direction, aspiring to the same goals and defending the same ideas is exciting and motivating and makes me think that formally joining forces could lead us to new horizons and interesting challenges where all of us could both contribute and keep growing. After all, life is about networking and I would love to network from All Digital's Board. All Digital is diversity and diversity is richness.
---
ACHILLES KAMEAS
Hellenic Open University (HoU), GREECE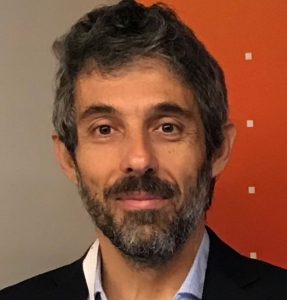 Dr. Eng. Achilles Kameas is Professor of Pervasive Computing Systems at Hellenic Open University, where he serves as Dean of the School of Science & Technology. He is the Founder and Head of DAISSy Research Group and has participated in more than 100 EU and national R&D projects.
He is member of the Board of ALL DIGITAL since 2017 and he served as Vice-chair (2018-19) and Chair (2019-21). He co-authored the Manifesto for Enhancing Digital Competences across Europe, contributed to AD strategy and in establishing the CoP on DigComp and the CoP on EDSC and coordinated the AD Summit Committee. He has contributed to DigComp 2.2 and the occupational profile of Intercultural Mediator.
Achilles has been promoting an inclusive society as a result of digital transformation, via teaching, and developing MOOCs and blended courses, and by sustaining the dialogue between society and education / training / lifelong learning actors.
Motivations
I am thankful to AD members for electing me to serve in the AD Board. During my terms I had the opportunity to watch AD grow and mature and contribute to establishing AD as a key promoter of an inclusive digital transformation. By its nature, AD looks to both the European policy landscape and the needs of its members. I am seeking your approval to contribute to the implementation of AD strategy, so that the international impact and potential of our network will grow more and at the same time our members will benefit from it as much as possible. With your help, I shall work to sustain the dialogue in the DigComp and EDSC CoPs, to realize the AD Academy, to increase the impact of AD Summit, to enlarge the family of AD members and empowered citizens and to invest in the competences of our staff.
---
MARIANNA MARCUCCI
Invasioni Digitali, ITALY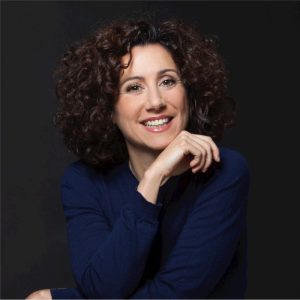 Digital Media Curator, Marketing & Innovation for Travel and Culture. Always striving to find unexplored connections between people to create new communities, I focus on helping them develop projects linked to the world of culture and tourism while seeking fresh opportunities for communication. Over the past years, I have concentrated on the possibilities offered by the web linked to the travel, art and culture industries. In this context, I co-founded "Invasioni Digitali" (Digital Invasions), a bottom-up initiative created in Italy in 2013. Invasioni Digitali aims to promote the value of and engagement with local cultural heritage. Its goal is to disseminate knowledge highlighting local beauty and history. I'm in Audience engagement and Development. I design, implement and promote digital communication strategies for cultural organizations and travel businesses. I'm an official trainer of Parole O_Stili, a social project to raise awareness against the use of hostile language, fake news, cyberbullying.
Motivations
An avid listener, I believe that change can only come from exchanging ideas and opinions. I believe that as never before it is necessary to focus our attention on the differences that make us the individuals we are. Differences, which society instead often stifles and represses. In the past two years in the board of All Digital, I've started to help the organization grow, helping it become more innovative and inclusive, but my work is not completed and I can serve the Board more and better if you let me continue!
Diversity. Change. Innovation. Added-value creation. Future. These are the drivers of my motivation.
What inspires me to work every day to build the future believing, as I do that through culture and communication it is possible to make society and the world better.
She believes that there is no better place than ALL DIGITAL to continue her journey, and she is convinced that she will be a valuable addition to the Board.
---
DRAGOS-ADRIAN NEAGU
The National Association of Public Librarians and Libraries in Romania (ABNPR) – , ROMANIA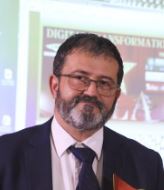 Since 1998 Mr. Dragos-Adrian Neagu served as deputy director of the Braila "Panait Istrati" County Library and since 2007 is the manager of this institution. He is also a member of National Libraries Commission in Romania and Member of EBLIDA's Legislation Commission. Mr. Dragos-Adrian Neagu is licensed at the "Lower Danube" University Galati, Faculty of Materials Science, has a master degree in Public Management at the Academy of Economic Sciences in Bucharest, and also have a PhD at the "Lucian Blaga" University in Sibiu. Dragos-Adrian Neagu is an ANBPR (National Association of Public Librarians and Libraries in Romania) member since 1995 and the president of this association since 2001 (is the second mandate as president, the first one was in 2012-2016). With a continuous activity for 30 years, Association currently has over 3,300 members and 41 branches nationwide, and aims to support the professional interests of public libraries and librarians.
Motivations
With 30 years of experience in the library field, Dragos-Adrian NEAGU felt constantly linked to the library evolution and profession. Ambassador of the libraries' cause at national and international level, he strongly believes in boosting multidisciplinary partnerships and empowering all stakeholders to consolidate a solid European network, focused on ALL DIGITAL members growth, aspects that will reflect favorably in the leadership decisions. Involved in the management structures of ANBPR for over 20 years, Dragos-Adrian NEAGU was a permanent pole for mobilizing members of library associations in Romania, project partners, external collaborators, decision-makers on library, various financiers and donors and representatives of other similar associations from abroad. As a AD Board member, he could add value in setting strategies and objectives for legislating the common digital space and creating a public policy framework fit to a robust pan-European network, focused on technology and digital skills critical use to shape Europe's future.
---
MIOMIR RAJCEVIC
Media Education Centre, SERBIA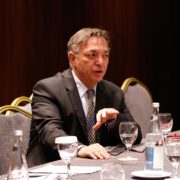 Professional experience: AGORA – Euro-Mediterranean 10 years project – Audiovisual Forum for Youth, Founder of the European Children TV Centre, Roaming Reporters Coordinator of the World Summit on Media for Children, Coordinator of the AGORA – Tell me what is a new project, Kids for Kids Festival, Founder of the International Youth Media Summit-IYMS, Los Angeles, USA, 2006, Executive Director of the IYMS 2008-2015, Executive of the Danube Peace Boat E.U.R.O.P.E.
Director of Photography in the Film Department of the Serbian Broadcasting Corporation SBC, Director and Scriptwriter in Children, Youth, Educational and Science Programmes of SBC.
Experience in working with Civil Society organizations in films, media, animation, IT, peace, health, digital and visual educational projects and production.
Head of the Media Education Centre delegation in UN New York, Geneve and Vienna (Media Education Centre has Consultative Status in the UN Economy and Social Council – UN ECOSOC).
Motivations
Strongly believe that digital literacy is necessary for the transformation of European society in all its sectors. Geographically especially in Western Balkans. Hope that I can contribute with All Digital to Western Balkans Region and take the opportunity for digital transformation with impactful digital educational interventions.
Having in mind the huge network in the Balkans, Danube and Western Balkans Countries I think that could contribute to the recruitment of new members from these regions which will open the possibility in the future to include institutions and organizations from WB to participate in European projects but in the same time, the influence of the AD activities will be more visible.
I think that I can contribute, in cooperation with other AD members and Board members, to the realization of the AD six years-long Strategic Plan.
---
ALTHEO VALENTINI
EGInA, ITALY
M.A. in "Publishing, Media and Journalism", Altheo has been working for more than 15 years as a project manager with a particular focus on digital and social innovation projects, for which he has founded the European Grants International Academy Srl, a training agency in the VET and Adult education sector and a consultancy company in European projects design and implementation.
Sociologist and communicator, Altheo deeply believes in transformative social change! He has launched the first Social Hackathon Umbria, a 48-hour digital marathon for the co-creation of innovative solutions aimed at solving different societal challenges. Besides seating in the technical committee of the Italian National Coalition for Digital Skills and Jobs (Repubblica Digitale), he is a member of national associations and networks in the field of innovation (General States of Innovation) and he is part of the board of All Digital and the Europeana Education Community.
Motivations
There is a moment in the growth of an organisation when you realise that you have laid the foundations to generate systemic changes in the way and scale through which you can achieve your strategic goals. With the confirmation of ALL DIGITAL as a major player in the field of digital education and the promotion of policies for the development of digital skills for all people living in Europe, the year 2022 clearly represented this moment of transformative growth.
I am glad and honoured to have witnessed this achievement as Chair of the ALL DIGITAL Board and would like to keep contributing to the evolution of our network into a hub for innovation and exchange of good practices, in particular those with the capacity to sensitize and orient the new generations to the multiple innovation opportunities that the current digital transformation process can offer in the educational sector.
---
IVA WALTEROVA
EPMA, CZECH REPUBLIC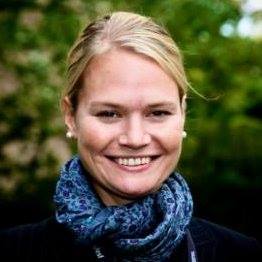 Throughout her career, Iva has been pursuing activities focusing on social and economic integration and empowerment using digital technology. She has worked in public administration at EU, national and regional level, as well as in the non-profit and business sectors in Europe, Asia and the United States. Having worked in EPMA between 2010 and 2015 as a project and communications manager, and serving in various NGOs – including ALL DIGITAL (2016-2018) – focused on digital in the few years since, Iva has returned to EPMA in early 2018, where has taken on the position of its CEO. Since 2021, Iva has been serving on the Board of AD. EPMA has also organized the 2022 AD SUMMIT in Prague. Iva also continues to take on short term assignments for the European Commission as an independent expert and she consults for SMEs and the public sector. She is also a published author.
Motivations
Possibility to learn should be an integral part of every person's life. Digitalization of society, of each person's life, is here to stay.  Facing hurdles in these aspects leads to gaps, struggles and general disadvantages. I have always been strong believer in equity and equality, in rights of the individual and the group. Over time, I have come to believe that AD is the organization that effectively promotes these beliefs and efforts. And I want to continue being a part of that. I believe that my local knowledge and long-term experience in a number of countries combined with being familiar with AD (former employee and member of AD BOARD since 2021) and the ins and outs of Brussels (work for the EC), make me a valuable addition to the great work already done by the Board and the staff of AD as well as the network as a whole.
---
NENJA WOLBERS
Stiftung Digitale Chancen, GERMANY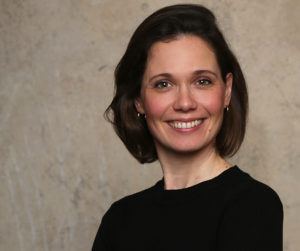 Since 2013 Nenja Wolbers is Project Manager at Digital Opportunities Foundation (SDC). She has been responsible for the development and implementation of various EU funded projects with international consortia that all had the objective to promote the digital inclusion of marginalized groups. She is an expert on participation processes especially for rural areas. She organised the ALL DIGITAL Week in Germany and other participatory campaigns. Furthermore Nenja is an experienced online trainer and creator of online learning units. She has been representing the foundation in the ALL DIGITAL network for the last years and has been a board member for the last six years.
Nenja holds a Master's degree in Sociology with the specialization of European Societies. Seeing the importance of Europeanization, she believes that digital media is one key pillar for Europe to grow further together.
Read more: https://www.linkedin.com/in/nenja-wolbers-167a0a83/
Motivations
The community of ALL DIGITAL has always been an important part of my work – a network united with a common goal that receives its strength from a divers membership, with active people that work all around Europe creating a feeling of togetherness. In the next two years, I want to contribute actively to further foster these strengths and help improve the organisation where it`s needed with commitment and continuity. I have gained a lot of experience as the Vice Chair of the Board and organising the Summit in uncertain times last year. But with my perseverance and reliability that helped in these situations, I am sure to be able to pave the way we can walk together into the future.