01 Feb

Youth e-perspectives on migration

Funded by: Erasmus+ Programme, Youth in Action, Key Action 2: Strategic Partnerships
Duration: 14 months
Start date: 01/02/2016
End date: 31/03/2017
Website: http://www.yep4europe.eu
In February 2016 Telecentre Europe and three members (Maks vzw, Telecentar and El Teb) started a new project "Youth e-perspectives on migration". The idea is to teach young people to use digital media to address important societal issues; the focus topic is refugees and migration affecting many countries in Europe.Young people will participate in an international training on photo creation and editing, digital storytelling, creating a website/blog and using social media. Participants will visit refugee facilities, meet them and will use digital tools to tell compelling stories.
The partners developed a training methodology on how to organise a series of workshops. Guidelines on how to apply the methodology were also be produced.
The project was inspired by Humans of New York and similar initiatives, where photographers use the digital language to tell compelling stories and put a human face onto societal issues such as migration, unemployment, and relationships.
Partners
Maks vzw: http://www.maksvzw.org/maks/index.php/en/
Telecentar: http://telecentar.com/web/index.php/telecentar?lang=en-GB
El Teb: http://elteb.org/
Methodology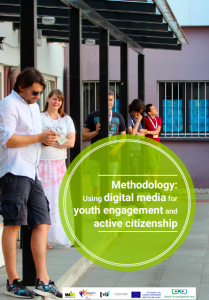 Project partners developed and implemented the methodology for a non-formal training course based on blended learning. The main part of the methodology is implemented as face-to-face activities. It includes four interrelated digital media modules (or, as we call them, workshops):
Digital Journalism
Digital Photography
Digital Storytelling
Online Platforms,
in which refugee crisis was our main theme. The methodology can be applied to any other "hot" societal topic that young people are faced with.