10 Jul

Get Online Week campaign reports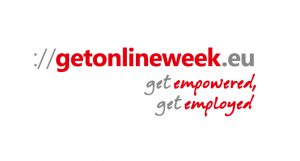 Author: Telecentre – Europe
Years: 2010-2017
The European Get Online Week is an annual digital empowerment campaign that engages and empowers people to use technology and the Internet with confidence and skills that allow them to benefit of the world of online opportunities. Supported by corporations, NGOs & public authorities, the campaign is organized each year in March by Telecentre-Europe (TE), an umbrella organisation that represents European networks of ICT learning centres.
The European Get Online Week was inspired by the campaign with the same name ran by UK Online Centres (now – Online Centres Network) in the UK. Telecentre Europe extended it to the European level, to get new computer users online by helping them to get through the doors of their local ICT learning centres, enabling the staff to build people's confidence to move on into a more structured learning.
The campaign takes place in 20+ European countries. A variety of non-formal education providers such as telecentres, libraries, community centres and non-for-profits are the ones who organise thousands of various activities in their communities throughout the campaign week.
Since 2010, at least 60 organizations have been involved as national partners in 34 European countries. These organizations included between themselves over 15,000 community telecentres, reaching out to an estimated 900,000 Europeans (information as of 2017)