20 Jan

European Get Online Week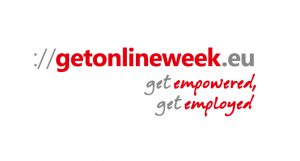 Start date: 2010
Duration: every year in March
Website: http://www.getonlineweek.eu/
The European Get Online Week is an annual digital empowerment campaign that engages and empowers people to use technology and the Internet with confidence and skills that allow them to benefit of the world of online opportunities. Supported by corporations, NGOs & public authorities, the campaign is organized each year in March by Telecentre-Europe.
The European Get Online Week was inspired by the campaign with the same name ran by UK Online Centres (now – Online Centres Network) in the UK. Telecentre Europe extended it to the European level, to get new computer users online by helping them to get through the doors of their local ICT learning centres, enabling the staff to build people's confidence to move on into a more structured learning.
2014 was the first year when GOW was part of the year-long eSkills for Jobs campaign organised by the European Commission, European SchoolNet and Digital Europe. GOW's alignment to eSkills for Jobs and to the Grand Coalition for Digital Jobs has been extremely positive, boosting the reach and impact of GOW partners and actions.
In eight years of GOW 170,000 Europeans have used the Internet for the first time and more than 900,000 people have improved their lives since the start of this annual campaign.
Among the earliest and staunchest supporters of GOW was Telecentre.org Foundation, one of the founders of Telecentre Europe.  Among our corporate partners there have been Liberty Global, Microsoft, CISCO, Certiport, Mozilla Foundation.
To check the results of all previous GOW campaigns, please check the campaign report section.